Old House Studio features a large collection of various musical instruments available for client use. (Of course, you're more than welcome to bring your own, too!) Whether you want to use our well-maintained instruments as your primary sound sources on recordings or you want to use something "different' for a specific overdub or part, we have instruments that you should find useful.
We have a wide variety of acoustic drums (six drumkits, twenty-eight snare drums, two large bass drums, six gongs, three conga drums, and various other percussion items), more than two dozen guitars (acoustic, electric, bass, baritone, twelve-string, high-strung and lap steel), twenty eight amplifiers (made between the 1950s and the 21st Century), and fifteen different keyboard instruments, (including a full-sized Yamaha grand piano and a Hammond C3 organ with Leslie cabinet), all available for client use at no extra charge.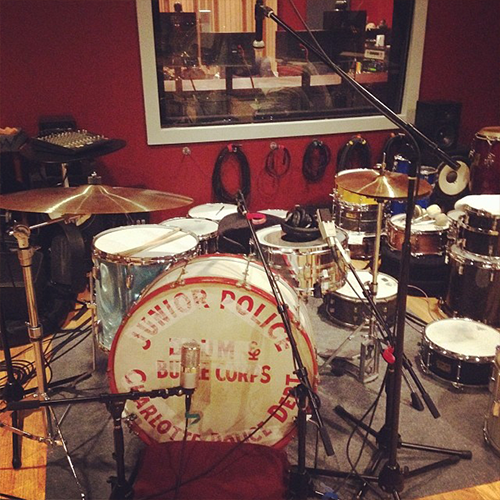 DRUMS:
Noble & Cooley CD Maple Custom Drumkit
(9×10, 9×12, 14×14, 17×20)
Noble & Cooley Studio Classic Maple Drumkit
10×10, 10×12, 12×14, 17×22)
Yamaha Recording Custom Drumkit
(8×8, 8×10, 8×12, 14×14, 14×20, 14×22–1989)
Gretsch Vintage Round Badge Drumkit
(8×12, 16×16, 14×20–1960s)
Gretsch Catalina Street Drumkit
(6×10, 11×13, 12×16)
"Slingeretsch" Drumkit
(1965 14×18 Slingerland bass drum, mid-60s Gretsch "Round Badge" 8×12 and 14×14 toms)
Slingerland Vintage Marching Bass Drum (9×26–1950s)
Gretsch Vintage Concert Bass Drum (10×28–1950s)
Ludwig Rocker Toms (11×13, 16×16)
Remo 12" Roto Tom
Tama Octobans (#5 & #6)
Custom Aluminum Octobans (Set of four)
Ayotte Custom Maple Snare (4×10–1995)
Gretsch Max Roach Progressive Jazz Model Vintage Snare (4×14–1960s)
Gretsch Vintage Snare (5×14–1960s)
Keplinger Custom Stainless Steel Snare (6.5×14)
Kent Uni-Lug Wood Snare (5×14–1960s)
Ludwig Jazz Festival Mahogany Snare (5×14–1963)
Ludwig LM400 Supraphonic Snare (5×14)
Ludwig LM402 Supraphonic Snare (6.5×14)
Ludwig LB552K Hammered Bronze Snare (6.5×14)
Ludwig LM404 Acrolite Snare (5×14–early 1980s)
Ludwig Coliseum Maple Snare (8×14–1970s)
Noble & Cooley Custom SS Solid Maple Snare (3.75×14–1986)
Noble & Cooley Custom SS Solid Maple Snare (7×14–1990)
Noble & Cooley HP Horizontal Ply Maple/Mahogany Snare (6.5×12–1996)
Noble & Cooley CD Maple Snare (3.75×13–1995)
Noble & Cooley Studio Classic Maple Snare (5×14)
Pearl B4514 Chrome-Over-Brass Snare (5×14–1970s)
(2) Pork Pie Custom Maple Snare (6×13–2001)
Pork Pie Bell Brass Snare (6×13–mid 90s)
Pork Pie Patina Brass Snare (7×13–2009)
Pork Pie Pig Lite Acrylic Snare (6×14–2006)
Pork Pie B.O.B. Black On Brass Snare (6.5×14–2016)
Rogers Powertone Chrome-Over-Brass Snare (5×14–1960s)
Slingerland Mahogany/Poplar Snare (6.5×14–1960s)
Tama BB156 Bell Brass Reissue Snare (6.5×14–2016)
Tama Superstar Birch Snare (5.5×14–2000s)
Tama Swingstar Chrome-Over-Steel Snare (6.5×14–1980s)
Yamaha Recording Custom Birch Snare (5.5×14–1989)
PERCUSSION:
Toca Custom Congas
(10″ Quinto, 11″ Conga, 12.5″ Tumba)
Matador Chrome Timbalitos
(10″, 12″)
Deagan Vintage Glockenspiel
Various bells, blocks, chimes, tambourines, shakers, gongs, and noisemakers
GUITARS:
Alvarez ABT60 Acoustic Baritone
Brownsville Choirboy 12 Electric 12-string
Danelectro U2 Electric Baritone (1990s)
Danelectro Convertible 
Epiphone Les Paul ('56 Gold Top Reissue/ P90s)
Fender Precision 4-string Bass w/ Hipshot D-tuner (American–1970s)
Fender Precision 4-string Bass (Custom Shop, Mid 80s)
Fender '62 Re-issue Telecaster (MIJ, 1986)
Fender Mustang (CIJ 2002)
Fender 'Custom' Telecaster 1972 re-issue w/frailin p90 style pickups  (MIM 2003)
Fender American Standard Stratocaster
Fender Duo Sonic w/Seymore Duncan Mini-Humbuckers  (MIJ 1997)
Ibanez AS50 "335" Copy (1980)
Rickenbacker 360 (mid 90s)
Steinberger Spirit
Squire Super Sonic (Vista Series, 1996)
Ibanez 684 Concord "Hummingbird" Copy Acoustic Guitar (1970s)
Rickenbacker 360 (mid 90s)
Rickenbacker 4001 Bass  (1977)
Gretsch Rally (1967)
Gibson SG Standard (2000s)
Gibson ES125 (1968)
Gibson MK-53 Acoustic Guitar (1976)
Peavy T15 (1978)
Yamaha FG75 Acoustic Guitar (red label, MIJ, late 1960s)
Yamaha FG110 Acoustic Guitar (red label, MIJ, late 1960s)
Yamaha FG-110 (black label early 80s)
Yamaha FG-110  (red label early 70s, with Kevin Marshall lap steel conversion)
Yamaha FG-110(red label Early 70s, high strung)

AMPLIFIERS:
007 Amplifier
Airline 62-9012A 1×8 tube combo (1960s)
Alamo Jet 1×12 tube combo
Ampeg B-15N Flip Top tube bass amp (1972)
Ampeg V4 (1973)
Fender Princeton 1968 Re-Issue
Fender Hot Rod Deluxe 1×12 combo
Fender Squire 1×8 combo
Gretsch G5222
Ibanez TS-15a
Leslie 122 with Trek II combo preamp
Matchless Lightning
Marshall JMP Super Lead Mk2 head (1977)
Marshall 1982 4×12 cabinet (1978)
Marshal 1965b 4×10 guitar cabinet (80s)
Marshall Powerbrake
Old House Custom Fender Tweed Deluxe Clone combo
Orange AD30 2-channel tube head
Orange PPC 4×12 Power Projection cabinet
Peavy 1×8 combo
Randall RG-15 1×10 combo
Roland JC-77 Jazz Chorus 2×10 combo (1980s)
Smokey Mini-Amp
Supro Blues King 8
THD Hot Plate
Traynor TS-50B head
Vox AC30 2×12 combo (1990s)
Vox Pacemaker 1×12 combo (1960s)
PEDALS, ETC:
Arbiter Fuzz Face
Analogman King Of Tone
Boss Bass Overdrive
Boss CE-3 Chorus
Boss OC-2 Octave
Boss TR-2 Tremolo
Boss TU-2 Tuner
Boss SD-1 Overdrive
Chuck Collins Interfax Harmonic Percolator
Cochrane Timmy Line Boost (v2)
Cry Baby Wah
Danelectro Sitar Swami
DOD FX-17 Volume/Wah
DOD FX-25B Envelope Filter
DOD FX-55B Supra Distortion
DOD FX-96 Grunge
E-Bow
Earthquaker Devices Disaster Transport
Earthquaker Devices Nightwire
Earthquaker Devices Avalanche Run Digital Delay and Reverb
Electro Harmonix Big Muff Pi (Black)
Electro Harmonix Holy Stain
Electro Harmonix Attack Decay Tape Reverse Simulator (2019)
Electro Harmonix C9
(3) Electro Harmonix Hum Debugger
Greer Amps Moonshot
Ibanez DML20 Modulation Delay III (late 1980s)
Ibanez TS-9 Tube Screamer (1996)
Ibanez TS-9 Tube Screamer (2001)
Ibanez TS-9 Tube Screamer (honestly…)
Ibanez TS-808 Tube Screamer 35th Re-Issue
(2) Johnson EAD-2 Analog Echo Delay (1990s)
Korg PME-40X Modular Pedal Board
Korg KAD-301 Analog Delay
Korg KCH-301 Analog Chorus
Korg KCO-101 Analog Compressor
Korg KDI-101 Analog Distortion
Korg KDW-301 Dist Wah
Korg KFL-401 Analog Flanger
Korg KPH-401 Phaser
Korg KSC-301 Sidecar
Korg KWD-701 Wensleydale
Korg KWS-301 Wave Shaper
Klon KTR
(3) MXR Dyna Comp
Moog MF-Delay
Moog MF-Boost
Nobels ODR-1 Natural Overdrive
Old House Custom DB Screamer Distortion
Old House Custom Klon Centaur Distortion Clone
Old House Custom Regulus R-VIII Fuzz Clone
Peterson Strobo-Stomp Tuner
SIB Mr. Fazedelic Dual Phaser
SIB Echo Drive (with Genalex Gold Lion)
Speakeasy T Dynovib
Strymon blueSky
TC Electronic Chorus
TC Electronic Polytune
Tech 21 SansAmp Bass DI
Tech 21 Sans Amp Classic
Tokai Analog Delay
Tokai Distortion
Tonefactor Hellbilly
Walrus Audio Juliana
Walrus Audio Messner
Walrus Audio Mayflower
Z-Vex Effects Lo-Fi Junky
Z-Vex Effects Mastotron
Many, many, more.
KEYBOARDS:
Ace Tone TOP-6 combo organ (1969)
Akai MPC Live
Casio CS-1000 Synthesizer (1980s)
Hammond Vintage C-3 Organ (1963)
(w/Leslie 122 speaker and Trek II combo preamp)
Hohner Model C Clavinet (late 60s)
Hohner Ocean Melodica
Melodigrand 64-key Travel-sized Spinet Piano
Moog Grandmother Semi-Modular Analog Synthesizer
Moog Sub-Phatty
Roland XP-30 Synthesizer
(w/ Session, Orchestra, Techno, and Vintage Keys expansion cards)
Wurlitzer 200A Electric Piano (1969)
Yamaha CP-11 Electric Piano (1970s)
Yamaha Dx-7
Yamaha G7 7.5-foot Studio Grand Piano (1966, factory restored in 2002)